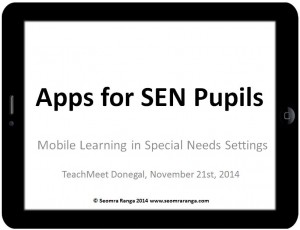 Last weekend, I presented at the inaugural Donegal Teachmeet, organised by four excellent local educators. This resource is the presentation I delivered on apps suitable for working with SEN pupils. The focus was on iPad apps as it is iPads that we have in our ASD unit. There are recommendations for ten different apps in the Powerpoint presentation, with most focusing on language and reading.
There is a recommendation at the start of the presentation to get a cover for the iPad to prevent breakage. There's also a great suggestion at the beginning of the presentation to set up Guided Access on the iPad which prevents pupils from exiting an app and going onto another. If you're not sure how to do this, read this earlier post I wrote on Guided Access.
You can choose to download the file by clicking on the link below or to view the presentation in the embedded Slideshare.
(.ppt file 416 KB)