Welcome to Seomra Ranga, the Hub for Primary School Resources. For the overseas visitors "Seomra Ranga" means "classroom" in the Irish language.
Seomra Ranga has been successfully providing tried and tested resources for primary school classrooms since 2007. Since that time, the site has gradually built up a strong following amongst educators as a repository of quality teacher-created resources. The resources on the site, which support all areas of the curriculum, are arranged in accordance with the curricular provisions of the Irish primary school….
Please have a browse through the new site and support our work in developing new resources by becoming a Member. Individual and School Memberships are available.
---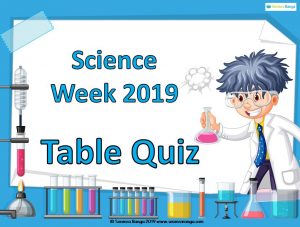 This Table Quiz, especially put together for Science Week 2019,  comprises eight rounds of six questions, a tie-break round, Science Jokes slides and answers to all questions on 149 Powerpoint slides. It is geared towards pupils in the middle/senior end of the school.