Thug mo mhúinteoir leabhar dom. Bhí sé go maith. I like how funny Dog Man is. Ba mhaith liom na pictiúirí.
"Dog Man" an t-ainm a bhí air. An carachtar is fearr liom ná Dog Man. He had a lot of tricks. Bhí sé leath-leabhar, leath-greannán.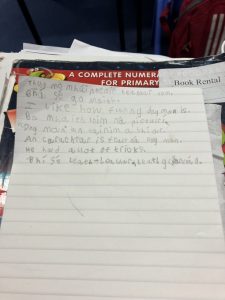 By Bror, Stillorgan, Co. Dublin.
"Dog Man" by Dav Pilkey (Gaeilge edition), published by Futa Fata, is on sale now for €9.95 (P/B).
Disclaimer: This book was provided by the publisher, Futa Fata, free of charge to Seomra Ranga for the purposes of this review.