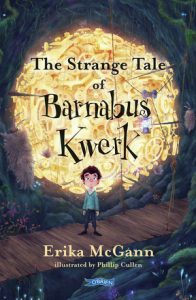 The Strange Tale of Barnabus Kwerk is a strange, but interesting and creative story. The story starts with a funeral which is a very sad place to start! But, I promise, there is a very enjoyable twist and the ending is a wonderful one. The story layout is fantastic.
There are lots of very short chapters and that means that even if you only have a few minutes, you can easily sneak in a chapter. Also, the text is double spaced, making it easy to keep track of where you are. The author, Erika McGann uses very vivid descriptions in her writing and this is important because Barnabus' life after the funeral takes a dramatic change. So many of her descriptions made me laugh and made me think of normal, day- to-day things in a different way.
Philip Cullen's illustrations are an important part to the story too, especially to help you to paint a picture of the Clockwork- a fascinating and original place with lots of unusual and memorable characters.
The story itself is a mix of everything, it is a Steam Punk style story, with glimmers of Alice and Wonderland, The Adams Family and even there was a Platform 9 ¾ moment as Barnabus enters "The Clockwork" through "The Squidgy Bit". This was my favourite part as it really sets the tone for the rest of the story. The Closet incident is a very confusing one. But, if you continue to read, it will all make sense.
The start of the book is captivating, however I found parts of the middle section a bit slow to read. I would encourage you to work through this section, as it is laying the groundwork for what is going to happen next.
This book is perfect for children between the ages of nine and eleven and is written for boys and girls alike. I would give this book an eight out of ten and definitely recommend this book. It would be a great stocking filler or book to read on a rainy day when you need to escape.
By Lilly, Ballybrack, Co. Dublin
"The Strange Tale of Barnabus Kwerk" by Erika Mc Gann, published by O'Brien Press, is on sale now for €9.99 (P/B).
Disclaimer: This book was provided by the publisher, O'Brien Press, free of charge to Seomra Ranga for the purposes of this review.