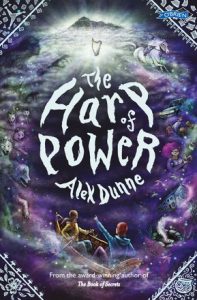 The Harp of Power is a fiction story based around Irish myths and legends. It follows the life of a girl named Cat, the friends she meets and the dangers they face. Together they must fight an ancient and terrifying power.
Cat is an extraordinary young girl with a magic power called "The Sight". Very few people know about her power, except her best friend Shane and her Granny. When Cat meets her fascinating new witch neighbour, Dr Becca Ryan and her familiar, Vinnie the stoat, she wants to learn more. But the evil Fomorian queen known as Cethlenn is out for revenge, and she knows exactly how she can avenge her long-lost tribe…
Cat and Shane set off on a journey to the magical island of Hy-Brasil to retrieve an ancient harp once owned by the leader of the Tuatha Dé Danann, the Dagda himself. But something is wrong with Cat, and Shane just can't put his finger on it.
I thought the book was very well written, the characters were very likable and they all had interesting motives. I liked the way the book could switch perspectives without making the book slow-paced, and even more that it goes into the perspective of the stoat! Another character I really liked was Aoife from the Children of Lir. Before reading this book I thought that Aoife was just a very wicked and cruel stepmother, but after reading, I realized that maybe Aoife was misunderstood, that she felt guilty for her actions. Her story ties in well to Shane and Cat's story on not letting jealousy make a bad decision.
My favourite part of the book was either Vinnie the stoat's chapters, Aoife's story or the dramatic ending. I also liked the LGBTQ representation in the book, even though there is very little of it.
The only problem I had with this book was there were no illustrations. There was a small one, normally a flower or a harp, above the chapter's name at the beginning of each chapter. The cover illustration though is very dazzling, intriguing and pleasing to the eye. The colours contrast each other well and the effects are eye-catching.
I would suggest an age group of 10+ for this book. I thoroughly enjoyed the book and I give it an 8 out of 10.
Overall, the book was magical, enjoyable and interesting. The characters were relatable and the plot was unique. Finally, even though I hadn't read the first book, "The Book of Secrets," I could still follow the story. I would highly recommend this book.
By Saoirse, age 11, 5th Class, Clondrohid NS, Macroom, Co. Cork
"The Harp of Power" by Alex Dunne, published by O'Brien Press, is on sale now for €9.99 (H/B).
Disclaimer: This book was provided by the publisher, O'Brien Press, free of charge to Seomra Ranga for the purposes of this review.