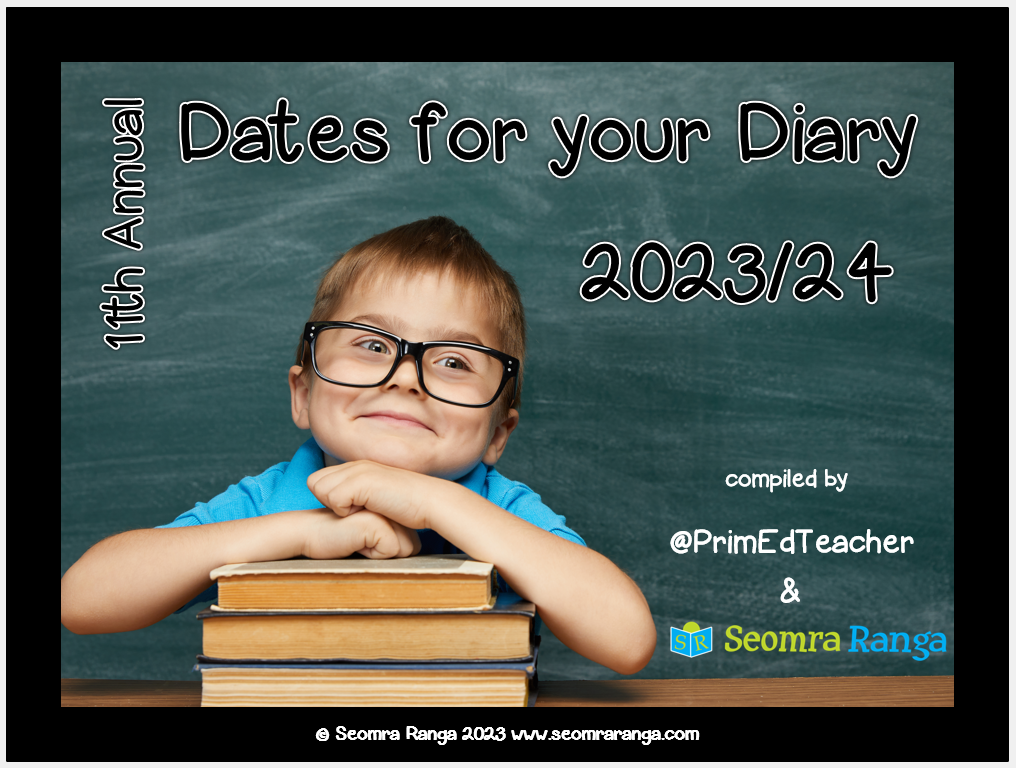 The Dates For Your Diary resource is back again for its 11th consecutive year. So many teachers make use of this list while they are making plans for seasonal and related activities in the classroom during the school year. Huge thanks again to Ciara Reilly (@PrimEdTeacher on Twitter, @CiaraReillyLecturer on Instagram) for help with compiling this annual list.
As well as special days, feasts, festivals and celebrations it also includes dates of conferences that will be of educational interest to teachers. Links are provided for further information. Save the dates in your school diary.
All of these dates give teachers great opportunities to celebrate special occasions in school and to see how they can be integrated into the curriculum for educational purposes. So if you are in the midst of planning the year ahead, why not incorporate some of these special occasions into your plans. It is not intended that teachers feel that they should/need to include the majority of these dates into their classroom planning. It's best to pick a couple each month that interest you or your pupils and focus on those.
If any occasions/dates have been omitted, or if there are any mistakes, please email me to let me know and I'll update the list.
You can download a colourful PDF booklet of the complete list, organised month by month, at the bottom of the page.
Where you see "TBC" – it means "To Be Confirmed" ie. the date has not been finalised at this point.
DISCLAIMER
Seomra Ranga does not maintain any of the web sites provided as links in this resource so it assumes no responsibility for their contents, nor does any link constitute an endorsement of any other site, its sponsor or its contents. These links are just suggestions of websites that teachers may wish to visit to compliment their classroom teaching. Ultimately, it is the responsibility of each individual teacher or school to determine whether the links provided are suitable for children to visit.
The full list of Dates for your Diary can be downloaded as a .PDF file (3.03 MB) here:
(Months of the Year visuals are available as a download HERE)
Ciara Reilly is Assistant Lecturer in Education in ICT and Digital Education in Marino Institute of Education. You can follow her on Twitter @PrimEdTeacher or on Instagram @CiaraReillyLecturer
Huge thanks to Ciara for helping out with the compilation of this list for the 11th year in a row.