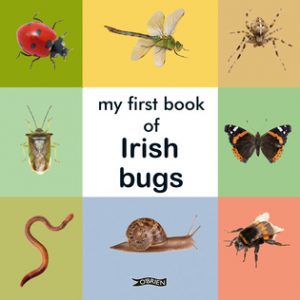 This is a delightful little picture book, perfect for those aspiring young entomologists! With clear, detailed photos and large bold print, this book deserves to be a staple in all junior libraries. Each page includes one labelled photograph of an insect against a pastel background, encouraging young children to use their observational skills to describe each bug's physical attributes. The inclusion of the shield bug and lacewing introduce readers to some less common Irish bugs.
While this board book is most suitable for infants and pre-schoolers, children in my 1st class who are new to Ireland & are learning the English language, really enjoyed this. It inspired some conversation about similarities and differences of creepy crawlies in Ireland and their home countries. They were excited to recognise English letter sounds and decode some of the words. We also used this book to inspire some scientific observational drawings, giving children time to explore details the may not have otherwise noticed.
I would recommend this book for pupils of junior classes or for children new to Ireland with an interest in mini-beasts.
By Kathleen Byrne, Cherrywood Educate Together NS, Dublin 18.
"My First Book of Irish Bugs", published by O'Brien Press, is on sale now for €9.99 (Board Book).
Disclaimer: This book was provided by the publisher, O'Brien Press, free of charge to Seomra Ranga for the purposes of this review.