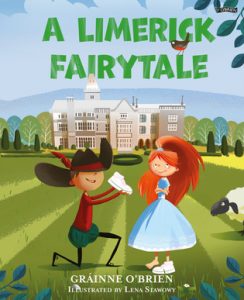 This book is a modern twist on Cinderella with all our favourite parts but DIFFERENT! The main characters in the book are Prince Hugo and his parents, the King and Queen, and a girl called Limerella.
Prince Hugo is trying to find his happy ever after in the world, encouraged by his parents. They decide to organise not one, not two, but three balls around their home town of Limerick. Their locations are Curraghchase, Adare Manor and the banks of the Shannon. Everyone who attends dresses beautifully and the treats at each ball are divine (the illustrator makes the reader drool showing such treats as chocolate fountains, sandwiches and fancy cakes and desserts!) and of course Prince Hugo's head is turned by a beautiful red haired lass who has more interest in the beautiful foods than of Prince Hugo.
Limerella, eventually gives Prince Hugo a twirl at ball number three by the banks of the Shannon until the bells of the Cathedral began to strike and she disappears. After two nights in high heels, Limerella had taken the comfortable option on night number three and left a white runner behind. The king's troops searched high and low through Ballyhoura Mountains, The Milk Market, Thomand Park, The Hunt Museum, University of Limerick , all well-known sites around Limerick City and this rampage continued until Limerella heard about it and presented herself to King John's Castle- Prince Hugo's home.
Like in all good fairytales…the prince got down on bended knee. The Prince did get his happy ever after but not before Limerella rejected his proposal and took him on an exciting adventure around Limerick and taught him about experiencing the real world …
We loved the story and the way the characters were portrayed. We thought Limerella represented strong girls doing it their way and like the story of Cinderella, not everything is always straight forward.  We loved her long luscious red hair and felt it suited her character. Prince Hugo learned a good lesson, in that we all have to try new things and see the world and what's for us won't pass us in life.
We loved the modern take on the story and how the girl was such a strong character. We loved the illustrations of Limerick city and the city was portrayed stunningly. We recently visited Limerick city for Riverfest so all the beautiful sites were fresh in our mind. We think this book is suitable for children aged from 3-8 years old. We read it in a class setting and at home (quite a few times, as it was requested over and over)  and they all loved it. The children scored the book ranging around 8 or 9 out of ten which is a great score.
As a múinteoir, I think this could be used in literacy when learning about fairytales and twists. It could also be used to show characters and character traits. It could also be used as part of learning about medieval cities and to introduce readers to different parts of Limerick before learning about the castle and its location. My Tipperary children suggested that every hotel in Tipperary, Limerick and Clare should have a copy of this for children staying to get them excited about seeing all these cool places in Limerick on their holidays.
We thoroughly enjoyed the book and would absolutely recommend it.
By Kathrine Maher (teacher / mammy) , James (aged 8) and Ellie (aged 5), Co. Tipperary.
"A Limerick Fairytale", published by O'Brien Press, is on sale now for €14.99 (H/B).
Disclaimer: This book was provided by the publisher, O'Brien Press, free of charge to Seomra Ranga for the purposes of this review.