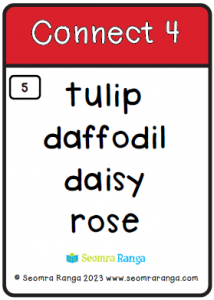 This FREE set of English Task Cards could be used with pupils in many different classes. The cards are intended to be used as a fun game/task to aid in the development of vocabulary and group terms. There are 10 cards in the pack, four per A4 page.
In this game, the teacher calls out the four words on the card (or the pupil reads the card themselves) and the pupil has to work out the connection between the four words ie. what have they got in common? For example, they could all be food, fruit, clothes, sports, body parts, games etc.
Alternatively, the game could be used by pupils on their own in a group. An Answer Key has been provided for this purpose.
Some of the cards are really easy, while some may prove to be more of a challenge, depending on the age group of the pupils.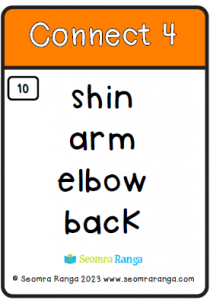 These cards could be used as an oral language game, as a warm-up for an English/reading lesson or for working with a group during Literacy Station Teaching.
It is recommended that the cards be cut out and then laminated so that they can be used again and again. In the classroom, they could be placed in a box for both whole class and group work.
If you think that the cards are too large, you can reset your printer preferences to print out two sheets per A4 page.
The full version of this resource with 50 cards in the pack is available to Members HERE
(.pdf file 367 KB)