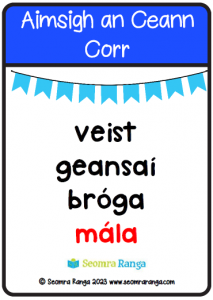 This FREE set of Tasc-Chártaí as Gaeilge is aimed at pupils in middle/senior classes. The cards are intended to be used as a fun game/task to assist in vocabulary development and in the development of working memory as Gaeilge. Based on Éadaí, the pupil has to identify the odd one out. There are 10 cards in the pack, four per A4 page.
There are four items listed on each card. Three of the items are an item of clothing. The fourth word should stand out as not an item of clothing. Pupils should explain why this fourth word is "An Ceann Corr".
The odd one out word features in different positions in all of the cards. It is also highlighted in red – this should help if the pupils are playing this game in pairs/groups.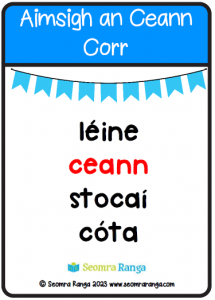 When the pupils are comfortable playing the game directed by the teacher, the pupils themselves could then play the game in pairs or in groups with one pupil calling out the words.
These Tasc-Chártaí could be used as a mental language/reading game, as a warm-up for a Gaeilge lesson or for working with a group during Station Teaching. They would also be really suitable for online learning.
It is recommended that the cards be cut out and then laminated so that they can be used again and again.
If you think that the cards are too large, you can reset your printer preferences to print out two sheets per A4 page.
The full version of this resource, which is available to Members of the site HERE, contains 50 of these cards. There are also two different previous versions of this resource also available on the website.
If you like this Free resource, please consider becoming a Seomra Ranga Member. A yearly individual subscription of €50 entitles you to access to all of the almost 8,000 resources on the website. SIgn up for Membership of the website HERE
(.PDF file 444 KB)