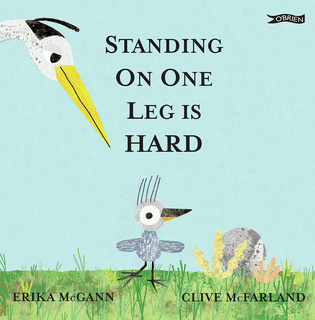 I read this story with my Junior Infant class and also my 5 year old son at home. The children were engaged in the story straight away as they liked the pictures. As I began to read, I was surprised to find out that not one of my 29 pupils had ever heard of a heron before. Therefore, we got off to a good start as it was a way to develop their language and knowledge of a new bird from the beginning.
The children liked the parts when the little chick kept falling over. I did hear a few children say the little chick was 'very cute'.
There was a chance for children to participate in the reading of the book by repeating the splash splish words. They also liked the rhyming parts. I always find rhyming bits in a story book engages young children well. Perhaps, in this story there might have been a chance for some more rhyming.
The children also seemed to engage well in the part where they are asked to close their eyes. I like the idea of this as it helps children to take more notice of a story book if there is a part for them to play.
After I read the story I asked the children some questions and I was happy that the majority of the class seemed to get the message that you have to keep trying even when things are hard. I think the book is suitable for Infant age and possible even 3 or 4 year olds. It is easy to follow the story and the illustrations are very child friendly.
As regards using this book in my classroom, I am happy now to have a copy that I'll be able to use again. It is a great book to tie in with SESE lessons on birds and a good way to help children remember the name of a bird they are not familiar with.
While I was looking through the book at home, what caught my eye was that the illustrator grew up not far from where I am from in County Tyrone so it's good to support local!
By Aoife Mc Nulty, SN Iorball Sionnaigh, Co. Monaghan
"Standing on One Leg is Hard" by Erika Mc Gann and Clive Mc Farland, published by O'Brien Press, is on sale now for €14.99 (H/B).
Disclaimer: This book was provided by the publisher, O'Brien Press, free of charge to Seomra Ranga for the purposes of this review