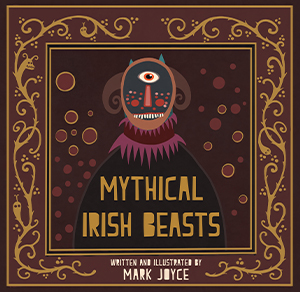 Mythical Irish Beasts is a fantastic mix of riveting written folklore and pictures accompanying the tales to entertain children of all ages. Ireland is a country steeped in mythical legends from banshees to glances the giant, and this book covers it all.
One of the things I liked the most about this book is how it's laid out. In the index, it shows where each story originated from, sometimes even down to the county, which is great to help children relate stories to areas they might know personally etc. My favourite part of the book was finding my own local legends and seeing which I knew and which I didn't. Each story has a dedicated page with the legend and the picture opposite for illustration so you can see what the legend is about or would look like if you couldn't imagine it yourself.
The book would more so be aimed at older children I think if they were reading it themselves, possibly about the 8-10 year old bracket, but it would also suit brilliantly as a book for story time with younger children which is what I myself used it for. Although the language might be a bit detailed and technical for the younger children, it works brilliantly as the stories are short enough that they don't lose attention. The book also encourages pupils to ask questions. The pictures are great for illustrating the story as you can fold the book so that you can read the story while the picture is on display.
I liked the fact that the book was a thick, sturdy hardback and the pictures were decently sized. This would help if you planned to pass it around after story time so each child could get a better look.
There wasn't anything too scary or spooky in the book that might cause any distress considering what the content is about. It's very cleverly done and doesn't go too heavily into things which works as a positive.
I would give this book a 10/10, I thought it was inventive, fun, and fresh. There's nothing similar out there at the moment and I love how you can use it in so many different ways.
by Saranne Devlin, Dublin.
"Mythical Irish Beasts" by Mark Joyce, published by Currach Books, is on sale now for €22.99 (H/B).
Disclaimer: This book was provided by the publisher, Currach Books, free of charge to Seomra Ranga for the purposes of this review