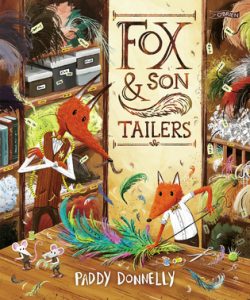 Fox & Son Tailers, by the author Paddy Donnelly is a heartwarming tale. It invites the reader into a world about family members working together in a little town called Ballybrush to make tails for the various animals who visit the Tail shop. The shop  has been in the Fox family for many generations. Rory is a creative and keen little boy who wants to help his dad by using his imagination to design new tails.
One day a customer looking for an AMAZING tail gives him the opportunity to explore his ideas. A very satisfied customer inspires Rory and his dad to explore more designs. My favourite part of the story is when Rory's dad presents his son with a tail.
The illustrations by Donnelly are humorous, colourful, and very detailed. The illustrations allow for plenty of talk and discussion. I would recommend this book for children ages 4-7.
This story could also be integrated into a literacy lesson to help explore themes about families, animals, and encourage students to explore their own creativity through the visual arts. The story would be very useful as a resource to teach the reading comprehension strategies of comparing, connecting and creating images in the junior classes.
Overall I would rate this book an 8/10.
C.Doherty parent/primary school teacher
"Fox and Son Tailers, by Paddy Donnelly, published by O' Brien Press, is on sale now for €14.99 (H/B).
Disclaimer: This book was provided by the publisher, O' Brien Press, free of charge to Seomra Ranga for the purposes of this review