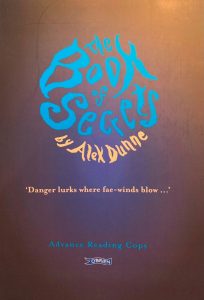 The Book of Secrets tells the story of a 5th class pupil called Cat Donnelly. Cat lives in the small town of Clonbridge, Ireland. The story is set at Hallowe'en and Cat is unhappy because she must bring her younger brother out trick-or-treating.
A couple of days before Hallowe'en, Cat discovers something dreadful has happened to her and her next door neighbour! After facing this traumatic event, Cat's Granny becomes unwell.
The book follows Cat and her neighbour on their journey into the woods to try and solve their problem. Inside the woods they encounter many scary mythical creatures. Will Cat and her friend Shane ever overcome their difficulties?
The characters in this book are very intriguing and clever. Cat is brave, determined, clever and is very attached to her family. I particularly liked the Pooka, Dullahan and the Merrow. The imagery in this book is extremely enchanting and it makes you feel like you are there in the woods.
This book is perfect for 10–15-year-olds who really like fantasy, adventure and mystery. I really enjoyed this book because it was interesting, funny, heartwarming, clever and I really enjoyed the ending. I definitely want a sequel and if there is one I hope that it comes out soon! That is why I decided to give the book 5 stars!
By David (age 11), 5th Class, Knockrooskey NS, Westport, Co. Mayo
"The Book of Secrets" by Alex Dunne, published by O'Brien Press, will be on sale from September 2022 for €12.99 (P/B).
Disclaimer: This book was provided by the publisher, O'Brien Press, free of charge to Seomra Ranga for the purposes of this review