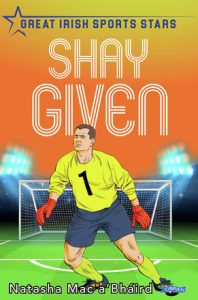 This book is about Shay Given, a famous Irish goalkeeper from Lifford, Donegal.  He has five siblings and his mum died when he was only four years old. Shay has very few memories of her. His Dad promised Shay's mother that he would keep the family together. I think he kept his promise very well, always encouraging Shay and his football career.
From an early age, Shay enjoyed playing in goal with his brothers Marcus, Kieran and Liam in their front garden. Shay often went to watch his Dad play from behind the goals, learning all his moves. His dream was to be a top-class keeper just like his Dad.
Shay Played for Lifford Celtic through all underage levels and then got the call when he was 15 to play for an adult team. His first professional team was Celtic, a club he had always supported and then signing with Blackburn. His biggest accomplishment was being called up to play for Ireland in 1996, he was 19. He played for Newcastle United for 12 years and really enjoyed his time there. I think his Dad played a huge role in his sporting life and was always there for him giving sound advice.
My favourite part of the book was when Shay felt that his mum was watching over him as was about to play his Irish debut. He knew that she would have loved to have been there to see him.
I enjoyed this book because Shay Given is one of the greatest Irish soccer players of all times and is an inspiration to all young soccer fans in Ireland. I learned lots about Shay and his sporting achievements including that he was the longest serving Ireland player of all time!  Shay proved that dreams really do come true! I would recommend this book to both boys and girls ages 10 – 12 who enjoy sport. I would give this book, 9 out of 10.
Oliver, Age 12, 6th Class Ballygarvan NS, Ballygarvan, Co Cork.
"Great Irish Sports Stars – Shay Given" by Natasha Mac a'Bháird, published by O'Brien Press, is now on sale for €8.99 (P/B).
Disclaimer: This book was provided by the publisher, O'Brien Press, free of charge to Seomra Ranga for the purposes of this review