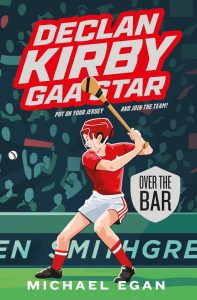 This book tells the story of a sixth class Gaelic football mad boy named Declan Kirby, who found out on his first day of sixth class that the teacher he was looking forward to having for the year has left his school. He quickly finds out that this year, his class will be taught by Mr O'Flaherty, a teacher who is very passionate about hurling.
Although Declan has never played hurling before, Mr. O' Flaherty convinces him to get involved in the school hurling team. Mr O' Flaherty builds the hurling team in the school and the team go on to do great things.
Declan's little brother, Daniel is also passionate about Gaelic football but has been forbidden to play by his overprotective parents due to an illness in early childhood. Although he now is fit and healthy he is still not allowed to play.
When the goalie on the local team, Smithgreen breaks his arm Declan convinces Daniel to step in and play behind their parent's back. Daniel discovers that he is a great goalie, but will his parents find and spoil everything?
I really enjoyed reading this book.
I would recommend this book for GAA loving children aged 9 and over.
One of the best things about this book is, if you enjoy this book, like I did, you can go on and read the rest of series.
By Aidan, aged 13, Sixth class, Seafield NS, Waterford.
"Declan Kirby GAA Star – Over the Bar" by Michael Egan, is the third book in this series. Published by Gill Books, it is now on sale for €9.99 (P/B).
Disclaimer: This book was provided by the publisher, Gill Books, free of charge to Seomra Ranga for the purposes of this review