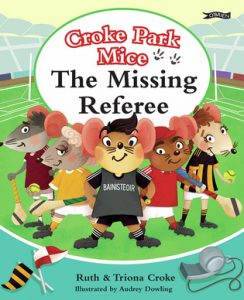 The children in Junior and Senior Infants in Holy Family N.S., Templetuohy were so excited to hear that we had been chosen to review a book for Seomra Ranga. Two days later, "Croke Park Mice-The Missing Referee" arrived in the post! We excitedly read the book and the children then reviewed the book and gave their very honest opinions.
The book is set in Croke Park on the day of the All-Ireland Hurling final. It turns out that a group of 32 mice, each representing a different county live in Croke Park! The class favourite mouse was obviously "Tipi", the Tipperary mouse. The mice are all excited in the build up to the big match until a strange mystery unfolds, the referee is missing! The children were looking forward to reading if the mice would save the day ? It led to many interesting predictions and connections.
The children really enjoyed the book and practically all gave it 9 or 10 out of 10 marks. The book is very suitable for children in Juniors, Seniors and First Classes. They were particularly taken with the mice characters being named after each county and the meaning behind the names such as "Lily" who is the Kildare mice as Kildare are known as the "Lilywhites" and "Garman" as the Wexford mouse as the Irish name for Wexford is "Loch Garman".
From a teacher's point of view, there is huge scope for learning more about Croke Park, the GAA, the county names and geography in Ireland and also the County nicknames. These, along with an interesting narrative plot and really cool cartoon- like illustrations lead to a really fun story.
The Infants in Holy Family N.S. really enjoyed the book, Croke Park Mice and whole-heartedly gave it a unanimous thumbs up!
By Leona Doyle, Teacher, Holy Family NS, Templetuohy, Thurles, Co. Tipperary.
"Croke Park Mice – The Missing Referee" by Ruth and Tríona Croke, illustrated by Audrey Dowling, published by O'Brien Press, is now on sale for €12.99 (H/B).
Disclaimer: This book was provided by the publisher, O'Brien Press, free of charge to Seomra Ranga for the purposes of this review