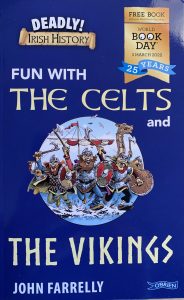 This is a book report about "Fun with the Celts and the Vikings" by John Farrelly. It was a very good book with loads of comics and make and do. There was loads of information about the Celts and Vikings in this book. It taught facts about history in a fun way.
The book gives an overview of the Celts and the Vikings. It explains about where they lived and shows the inside of a Celtic Round Tower and a Viking House. The make and do pages include instructions about how to make a Roundhouse, Viking Brooch, Shield and Helmet.
There was a recipe for Nettle Soup but I decided not to try that out! There are some True and False pages. The book explains that in battles you have to fight not just with weapons but with insults. One of my favourite pages was the insult generator. Some of them were very funny.
This is a World Book Day Book 2022. It would definitely be worth buying with your voucher. The only thing I would change about this book is that I would like it to be longer. This is a very short book. It took me two days to read it. John Farrelly also wrote two other books called 'The Vikings' and 'The Celts'.
I would recommend this book for children age 7 – 10. I would give it 10/10.
By Colm, Age 9, Gaelscoil Uí Riada, Bishopstown, Co. Cork.
"Fun With the Celts and the Vikings" by John Farrelly, published by O'Brien Press, can be purchased using your World Book Day token which you should receive from your teacher in school.
Disclaimer: This book was provided by the publisher, O'Brien Press, free of charge to Seomra Ranga for the purposes of this review