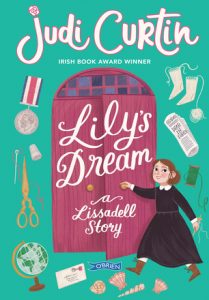 "Lily's Dream: A Lissadell Story" written by Judi Curtin is a brilliant book about a girl named Lily. After Lily's dad died, her mam was struggling to feed and care for five children. As Lily was old enough, she left school and started working as a house maid at a house called Lissadell.
She was scared at first but made many friends. She shared a room with a lovely girl named Nellie. Lily was also friends with Nellie's sister Johanna.
Johanna was having a hard time after Harry, the man she loved, went off to war. Harry was also Lily's friend and everyone was missing him. Harry was also very encouraging about Lily's dream of becoming a teacher.
Lily had dreamed of becoming a teacher since she was little and eventually Lady Mary (the owner of Lissadell) let Lily teach two little boys for a while.
Lily also loves to sew and even teaches some women how to sew on Fridays. She entered a competition and sewed a beautiful blouse for her mother and won first prize. With her prize money, she bought special cream for her mam's sore hands.
I thought this was a very well thought-out book that was very entertaining to read.
I really liked when Lily won the competition and gave her mam the blouse.
My favourite part of the book was when Harry finally came home after everyone thought he was dead and Johanna said she loved him no matter what he looked like.
I would recommend this book to ages nine to thirteen.
Overall I thought it was an amazing book and I would definitely recommend it. I would rate this book an 8/10.👍
Erin, 12 years old – St. Mary's SNS, Blessington, Co. Wicklow
"Lily's Dream – A Lissadell Story" by Judi Curtin, published by O'Brien Press, is now on sale for €12.99 (P/B).
Disclaimer: This book was provided by the publisher, O'Brien Press, free of charge to Seomra Ranga for the purposes of this review