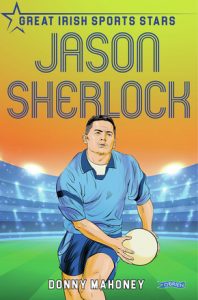 This book is about Jason Sherlock, an Irish sports' legend, and his journey to the All-Ireland final. Jason grew up in Finglas, County Dublin. His father was Asian and his mother was Irish. He had no brothers or sisters, but lived with his mom, grandmother and two uncles.
Jason was very sporty and had a love for Gaelic Football, Hurling, Soccer, Basketball, Golf and Tennis. He was an exceptional sportsperson and played on teams for most of those sports. Jason's dream was to play on the Dublin Gaelic Football team and after many years all his hard work paid off.
What I liked about this book was all the tough decisions Jason had to make throughout his life e.g. would he play soccer for UCD or Gaelic Football for the Dublin team? He was told by many as a child, that he couldn't play football for Dublin because of his Asian heritage, but that didn't stop him and he was determined to follow his dream.
My favourite part of this book was when UCD played against Liverpool and his teammates from the Irish team. Jason's favourite soccer team was Liverpool and he loved every second of it. Even though UCD lost 3-1, Jason was happy to get his name on the scoresheet.
I would recommend this book to people who are singled out because of their heritage because this book could help them to overcome the narrow-minded opinions of others and encourage them to follow their dreams, like Jason did. I would also recommend it to people who have a love for sport, just as much as Jason did.
I give this book 10/10. It kept me interested, engaged and rooting for Jason Sherlock.
By Aidan, 4th Class, Ballygarvan NS, Co. Cork
"Jason Sherlock" by Donny Mahoney, published by O'Brien Press, is now on sale for €8.99 (P/B).
Disclaimer: This book was provided by the publisher, O'Brien Press, free of charge to Seomra Ranga for the purposes of this review