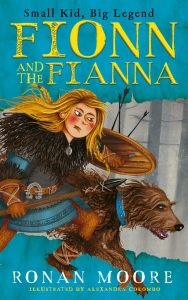 This book was extremely good!! I love the way that it is based on something very important in Irish history and I also loved all the cool names that the characters had. I think my favourite character was probably Fionn, although I also liked Cana and Iolla.
Fionn, because he seemed really kind, but shy and very brave as well. I loved the fact that the author included a few facts from old Irish myths, like Fionn biting his burn from the Salmon of Knowledge and Go Mac Marna. I also liked the way, that right at the start, he focused a little on the sexism that used to be everywhere in Ireland and all other countries, and decided that in his book he would change that – even if not everyone agreed.
I really loved the characters of Échna and Ossnat as well: they are really strong characters, and I feel like they are actually among the strongest and bravest, even though Ossnat looked weak and sad. I enjoyed the battle greatly as it was very descriptive and thrilling!
I think the whole plot was very clever and quite secretive/daring. I hope the author writes lots more books based on this subject/similar ones, as well as focusing on problems in the world like racism and sexism.
Thanks so much for the opportunity to read this amazing book!!
Órna Ní Chathasaigh
"Fionn and the Fianna" written by Ronan Moore and illustrated by Alexandra Colombo, published by Gill Books, is on sale for €8.99 (P/B).
Disclaimer: This book was provided by the publisher, Gill Books, free of charge to Seomra Ranga for the purposes of this review