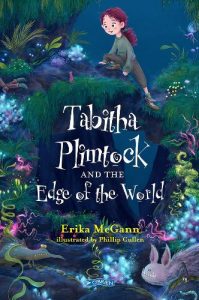 This book is about a girl who lives at the edge of the world who's awful relatives get her to go down the wall at the edge of the world to do the shopping, bake a birthday cake most days of the week, make them dinner and of course on top of that they treat her horribly. But that all changes when she meets Dr. Wendy Sherback who takes her on an adventure to the base of the wall at the edge of the world.
To save the world from the predators that lurk down there which have been driven up the wall by the people at the edge's failure to take care of the environment around them. This leads to lots of action that you wouldn't want to miss (and I'm not giving away any spoilers either).
The main characters are Tabitha Plimtock, Professor Sherback along with her friends and family (who aren't in any way one and the same).
I thought this book was really good and it had an interesting but humorous atmosphere. I also loved how all the different pieces of the story fit together, such as the bit with the pink moss.
My favourite parts of this book are when Tabitha looked around Professor Sherback's laboratory and how there was no real explanation to why those newts always followed Tabitha around.
I would recommend this book for 9-12 year olds and I would give it an eight out of ten. I really enjoyed this book and I would absolutely read it again.
By Adam, 5th Class, Clonea Power NS, Co. Waterford.
"Tabitha Plimtock and the Edge of the World" by Erika Mc Gann and illustrated by Philip Cullen, published by O'Brien Press, is on sale from September 2021 for €8.99 (P/B).
Disclaimer: This book was provided by the publisher, O'Brien Press, free of charge to Seomra Ranga for the purposes of this review