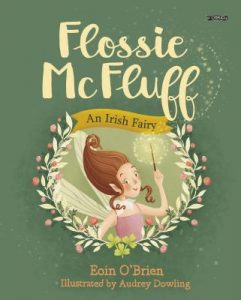 The book is about an Irish fairy, Flossie Mc Fluff. She teaches the litterbugs a lesson in it. I like the chapter "As Good as Gold", the leprechaun in it, he was really cool. I score this book 10 out of 10.
by Jake Age 7
Flossie is the best fairy ever. She helps people. The Banshee is my favourite part! I like the way the pictures look. I give the book 10 out of 10. Everyone should read this book because she is a nice person.
by Caitlin Age 8
Teacher's perspective
The book is split into 3 chapters, which is slightly unusual for young children's books. It is great to explore the different problems the character faces and I took the opportunity to use different comprehension techniques for each chapter.
The language is a great mix between sight words and accessible onset/rime families. Each page offers broad sentence and grammar structures and rhyming sentences that allow the children to nearly finish the sentences orally if they are not able to read the words. I have a broad range of reading levels in the class and this book was accessible for all.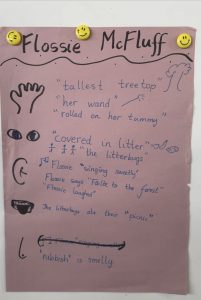 I would love to see this book published as a Big Book and I sincerely hope there is a follow up with even more stories of Flossie's Adventures around Ireland! I would highly recommend this book for all Primary School classes as it has a lovely springboard for Green School lessons, friendship and problem-solving. It could easily be part of a thematic approach to Aistear, SESE, Literacy and other lessons for a fortnight.
Images show pupils after art class based on the book, designing more stories for Flossie where they help save the day and a sensory chart comprehension strategy. Images are © and are used with permission.
By Dervila Kelly, Teacher, St. Mary's NS, Co.Limerick
"Flossie Mc Fluff: An Irish Fairy" by Eoin O' Brien, published by O'Brien Press, is now on sale for €8.99 (P/B).
Disclaimer: This book was provided by the publisher, O'Brien Press, free of charge to Seomra Ranga for the purposes of this review