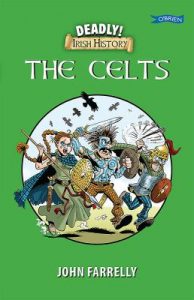 This is a charming, funny and informative book written by John Farrelly. It is written about the Celts in Iron Age Ireland. "Irish history isn't boring … It's Deadly!"
•Did you know that the Celts were the first people to invent the traffic jam!
•And that the first sliotars are thought to have been the severed heads of their enemies?
Read about Fionn Mac Cumhaill, his mighty band of warriors 'The Fianna' and much more in this hilarious book, filled with funny sketches and comics that will make you Laugh Out Loud!
I thoroughly enjoyed this book and give it five stars. I would recommend it for readers of any age, who want to know more about our interesting heritage and past.
By Alex, Killaloe BNS, Co.Clare
"Deadly Irish History: The Celts" by John Farrelly, published by O'Brien Press, is now on sale for €8.99 (P/B).
Disclaimer: This book was provided by the publisher, O'Brien Press, free of charge to Seomra Ranga for the purposes of this review