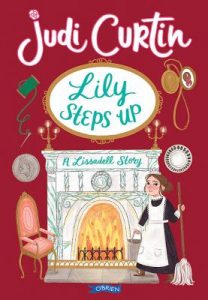 I really loved this book 'Lilly Steps Up' by Judy Curtin. In this book review I am going to tell you a bit about the story and characters. I will tell you about my favourite part and I will also give the book an overall score out of ten.
The story takes place in the early 20th century. It is set in 'Lissadell House', a really big house in Sligo. The house is owned by the Gore- Booth family. The main character of the book is Lily- as you can probably guess from the title. Lily is a servant in Lissadell house. She is kind and caring and will always help a friend. As the story goes on a few things take place including Lily doing a very, very kind thing that could get her in serious trouble!
Other characters that we meet are Nellie and Maeve. Nellie is Lily's best friend and she is also a servant in the house. She appears mean when you first meet her but is nice underneath. She adores Lily and would do anything for her. Maeve is the niece of the owner of the house and spends a fair amount of time there. Lily, Nellie and Maeve are my three favourite characters.
My favourite part is when Michael Gore –Booth (the eldest son of the Gore- Booth family) takes Spotty the seal home from the beach. I love this part of the book because I love animals and Spotty sounds like an adorable seal. Michael takes him home from the beach and puts him in the garden pond. I think Spotty was a grey seal because grey seal pups are often alone on the beach.
My favourite quote is 'And the next day, when I walked into the dining hall and everyone stopped talking, I stood on a chair and said in my loudest voice, 'I'm one of you, and I always will be. I'll never be a spy, and if anyone says different I'll….I'll… I'll set Spotty the seal on you!' (Lily, p 145)
The book is long enough and has no pictures so I think that is for ages 9 – 12. I would really recommend this book to this age group.
As for a score out of 10, I personally would give it 10/10 as it was an excellent read- I have even read some parts twice.
That's all I have to say about 'Lily Steps Up' without giving too much away! I discovered this book is the second in a series of two, I look forward to reading the first book in the series really soon.
By Martha, 5th Class, Our Lady of Good Counsel GNS, Johnstown, Co. Dublin
"Lily Steps Up" by Judi Curtin, published by O'Brien Press, is now on sale for €8.99 (P/B).
Disclaimer: This book was provided by the publisher, O'Brien Press, free of charge to Seomra Ranga for the purposes of this review