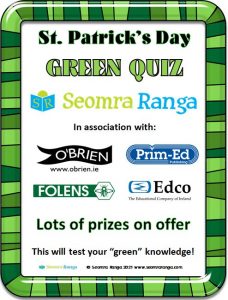 Here is a quiz for adults to mark St. Patrick's Day. There are a range of questions, some easy, some a bit more challenging, and all of the answers have "Green" in them in some way. Some of these will really stretch you.There are a variety of prizes for this quiz, but you'll have to work hard to earn them!
The following prizes are on offer:
2 X 6-month Memberships to Seomra Ranga
€50 Voucher for Prim-Ed Ireland
3 X Teacher Yearbooks form Folens Publishers
Hamper from EdCo Ireland
Book Hamper from O'Brien Press
To be in with a chance to win one of these great prizes, simply fill in the form below with your details and answer the 40 questions. If you are not sure of some of the answers, do an internet search and you should be able to find them (eventually!) It should pass an afternoon for you on a day when not a lot else is happening.
Only one entry per person is permitted. Submitting more than one entry per pupil will lead to disqualification. Competition is open to Republic of Ireland and Northern Ireland only. Entries must be submitted by 5pm Friday March 19th. The winners will be selected at random (I usually use Random.org) and announced on Twitter (@seomraranga) after this time.
Please make sure that you give a contact email address that you can be contacted on immediately after the competition as people have previously forfeited prizes by not answering their emails promptly! Go n-éirí an t-adh libh!
If you wish to have a hard copy of the questions to fill in while doing your research, you can download a copy HERE