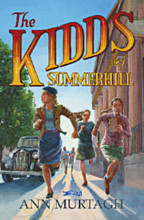 "The Kidds of Summerhill" is the story of Nancy Kidd, who is trying to juggle her friends, her family and her guilt. When Nancy's mother dies, the Pig Farmer shows no remorse and even tries to get rid of her. But is there more to this rivalry than meets the eye?
It gets even worse when Nancy is forced to rat out her friend, Charlie, and he is sent to a dreaded industrial school as a result. Nancy has a plan to break Charlie out of the vile and villainous industrial school. But will she risk her family and herself being sent to an industrial school as well? Will she succeed or will she fail? You will have to read this amazing, enthralling novel to find out.
This story is captivating. I really like the part when Nancy confessed to Lilly about Charlie, because she felt she had a massive weight on her shoulders. On the other hand, I disliked the part when Lilly got mad at Nancy, after she told her that she was partially responsible for snitching on Charlie, and getting him sent to the industrial school.
Without doubt, my favourite part of the story was the ending – it proved very satisfying – if a little bit sad and unexpected, as Karla returns to her home city of Prague and Charlie escapes to England.
My favourite character is actually the Pig Farmer. Although she is the main antagonist, she is cunning, always three steps ahead of everyone else and is intelligent in her own cruel and nefarious manner. The character I least liked was Lilly, as she treated Karla very badly at first and didn't appreciate Nancy confiding in her about being partially responsible for Charlie being sent to an industrial school.
This book would be suitable for 11 to 14 year old. The language and ideas in the book could prove challenging for younger readers.
I would give this book 9 ½ / 10 as it is such a well-written book. The reader is able to empathise with the characters in the story and the narrative continues to hold your attention throughout the whole book. Overall, it is a thoroughly enjoyable book to read.
By Conor, 5th Class, Scoil Ailbhe, Thurles, Co. Tipperary.
"The Kidds of Summerhill" by Ann Murtagh, published by O'Brien Press, is now on sale for €8.99 (P/B).
Disclaimer: This book was provided by the publisher, O'Brien Press, free of charge to Seomra Ranga for the purposes of this review