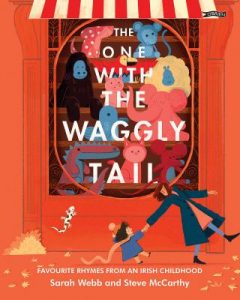 The One With The Waggly Tail, written by Sarah Webb and beautifully illustrated by Steve Mc Carthy, is an engaging book with over 60 rhymes, poems, songs and tongue twisters that children and adults will enjoy. Each page is beautifully illustrated with clear and colourful font to capture the imagination of the younger reader. The artistic illustrations is a treasure trove for children to explore and take them on a literature adventure.
The book also brings the adult reader on a nostalgic journey and evokes childhood memories while introducing the younger reader to these favourite rhymes.
It includes English and Irish rhymes from 'Hot Cross Buns' to 'Lámh, Lámh Eile'. This fun book has many wonderful pages, it is very difficult to pick one.
This book is a perfect addition to a child's reading list, adults coffee table and any school library. It is a book to use now and treasure later.
Kyna Rushe is a teacher in Naul NS, Co. Dublin.
"The One With The Waggly Tail", by Sarah Webb and illustrated by Steve Mc Carthy, published by O'Brien Press, is now on sale for €16.99 (H/B)
Disclaimer: This book was provided by the publisher, O'Brien Press, free of charge to Seomra Ranga for the purposes of this review