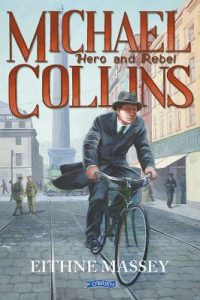 "Michael Collins – Hero and Rebel" is a fictional novel written by Eithne Massey. It tells the story of Irish hero Michael Collins who, from his childhood in West Cork vowed to fight for an independent Ireland.
This is an amazing book with an inspiring story behind it. Throughout the entire book we are introduced to new characters and the extraordinarily brave and dangerous things they did in order to win independence.
I thoroughly enjoyed this book and found it a fun and interesting way to understand more about one of Ireland's most important historical figures as a person instead of just a group of facts. This book made the history of the war of independence a lot clearer for me. I would definitely recommend this book to a friend.
By Bláithín, Rang 6, Gaelscoil an Eiscir Riada, Tullamore, Co. Offaly
"Michael Collins Hero and Rebel", by Eithne Massey, published by O'Brien Press, is now on sale for €8.99 (P/B)
Disclaimer: This book was provided by the publisher, O'Brien Press, free of charge to Seomra Ranga for the purposes of this review