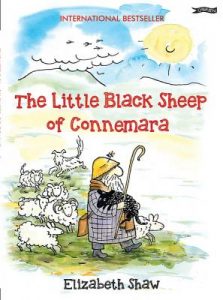 "The Little Black Sheep of Connemara" by Elizabeth Shaw, is a story that is truly lovely in its simplicity.
Polo is a sheepdog who helps the shepherd to mind his sheep and keep them in line. Polo likes being "the boss" and is used to the compliant sheep doing what they are told – with the exception of the little black sheep. This little sheep feels different and yearns to be like the others.Luckily, he gets an opportunity to prove his worth and he learn the advantages of being different. As does Polo and the shepherd!
The illustrations in the book help the children to follow the story.
The book has a lovely simple way of explaining a very important message to young children – that it is OK to be different and that everyone is special in their own way. While we enjoyed the book, this message will be even clearer to children as they get older.
We gave this book 8 out of 10.
By Rory (5) and Luke (2) Flynn, Knocklyon, Co. Dublin.
"The Little Black Sheep of Connemara", by Elizabeth Shaw, published by O'Brien Press, is now on sale for €9.99 (P/B)
Disclaimer: This book was provided by the publisher, O'Brien Press, free of charge to Seomra Ranga for the purposes of this review