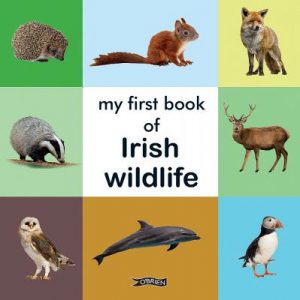 "My First Book of Irish Wildlife" by O'Brien Press, is an engaging hardback book aimed at introducing young children to the wonderful world of Irish Wildlife. Amazing wildlife living so close, they can be found in their own garden. Filled with beautiful illustrations of each animal with their name clearly printed in large font, this book will help develop the imagination of young children.
This book includes a wide range of Irish wildlife species that receive a page of their own. Hedgehog, Squirrel, Pine Martin, Hare, Seal, Dolphin and many more. They can all be found in My First Book of Irish Animals.
Discover creatures big and small that live in different habitats from the sea to the sky and from hedgerows to woodlands. Young children will learn to identify common native Irish Wildlife species in this lovely book.
This book is aimed at babies to young children. This book would be a positive addition to junior libraries in schools to learn about Native Irish Wildlife species.
by Kyna Rushe, Teacher, Naul NS, Dublin
"My First Book of Irish Wildlife", published by O'Brien Press, is now on sale for €8.99 (H/B)
Disclaimer: This book was provided by the publisher, O'Brien Press, free of charge to Seomra Ranga for the purposes of this review