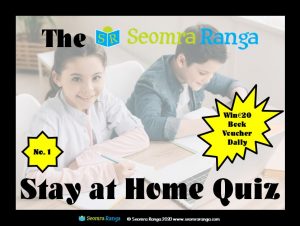 To mark the Stay-at-Home period during the current crisis over the next two weeks, we want to give pupils something practical to keep themselves occupied in a practical way. We will post a Free online quiz of 20 questions each day for pupils to find the answers to. They will all be general knowledge and pupils should be capable of finding the answers online.
To be in with a chance to win a daily prize of a €20 Book Voucher, simply fill in the form below with your details and answer the 20 questions. If you are not sure of the answers, do an internet search and you should be able to find them. It is hoped that parents will not do the quiz for the pupils – the idea is that they will spend a productive period during the day at home.
Only one entry per pupil is permitted. Submitting more than one entry per pupil will lead to disqualification. Entries must be submitted by 3pm each day. The winner will be selected at random (I usually use Random.org) and announced on Twitter (@seomraranga) after this time.
Please make sure that you give a contact email address that you can be contacted on immediately after the competition as people have previously forfeited prizes by not answering their emails promptly! Go n-éirí an t-adh libh!