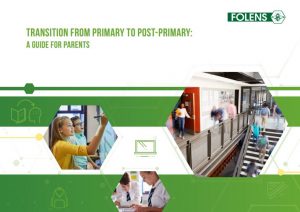 This is the time of the year when parents and 6th class pupils' minds start thinking about post-primary and the transition from primary school. There is a decision to be made on the school to attend, subjects to take, transport to and from the post-primary school and where the pupil's friends are going.
Transition from primary to post-primary school can be a tricky/difficult time for some pupils – for the vast majority it is just a rite of passage and the transition works out well. It is timely, therefore, that educational publishing company Folens have released a free booklet for parents on the transition from primary to post-primary school.
They have partnered with Graham Richmond, an experienced teacher and counsellor, to author this online advice booklet for parents to help prepare themselves and their children for the move to secondary school.  The booklet includes advice on several different topics including the practicalities of adapting to a new timetable, screentime, homework, organising schoolbooks, routines, diet, sleep etc.
This booklet is free for parents/teachers and can be downloaded from the Folens website here: Transition from Primary to Post-Primary – A Guide for Parents