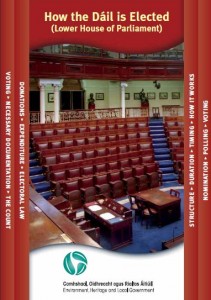 With the General Election imminent, the following are some online election resources that teachers may find helpful when explaining the workings of the democratic system in Ireland. The first link is a booklet on how the Dáil is elected (some of the finer details and figures may not be quite up to date). There are also some other guides and printables which may be useful in explaining the General Election to pupils.
Don't forget that Seomra Ranga also has a comprehensive Election Resource Pack which has 29 files with 253 pages of classroom resources including worksheets, posters, flashcards, word mats, display items as well as a Presentation explaining the whole process of the Election.
Disclaimer: Seomra Ranga does not maintain any of the web sites provided as links so it assumes no responsibility for their contents, nor does any link constitute an endorsement of any other site, its sponsor or its contents. These links are just suggestions of websites that teachers may wish to visit to compliment their classroom teaching. Ultimately, it is the responsibility of each individual teacher or school to determine whether the links provided are suitable for children to visit.
How the Dáil is Elected – 16 page guide about everything to do with the election
Guide to Voting – an easy to read guide from Inclusion Ireland
Information on Election Posters – FAQs about election posters
A Guide to Ireland's PR-STV Electoral System – guide to how PR-STV system works
Guide to the Register of Electors – available in several different languages
Links
Citizens Information – election page