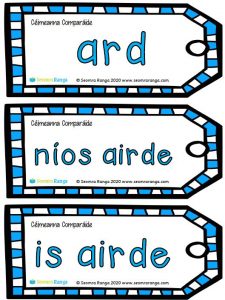 This free resource contains the Bunchéim, Breischéim and Sárchéim of nine different aidiachtaí. There are three flashcards, in a luggage label style, on each A4 page, in three different colours. There are also headers in black/grey.
The aidiachtaí contained in this pack are álainn, ard, bacach, bán, beag, binn, bocht, bodhar and bocht.
This is a free version of this resource. The full version with 56 aidiachtaí is available for Members to download.
If you find that the flashcards are too large for your available display area, juts re-set your printer preferences to print Two (or more) sheets per page.
(Comhad .PDF 0.98 MB)