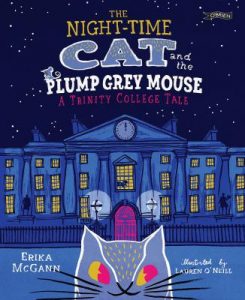 We decided to review "The Night-time Cat and the Plump Grey Mouse – A Trinity College Tale" by Erika Mc Gann and illustrated by Lauren O'Neill as a family. We all love reading and I am lucky enough to read both at home and school daily. Upon initially looking at both the cover, and cover page, of our new exciting book, we were curious about the time of day. What time of the day was the story set in and what characters might come to life? The story is set at night was the conclusion from the darker colours! " A Mhamaí, the cat is called the Night-Time cat!" they all chanted at once.
This lively story starts with the little mouse peeping out from the pages of an old, beautiful book in a very quiet library. When the clock strikes 12 midnight, the mouse begins to move, hops off the page and starts his magical exploration of Trinity College. But the plump, grey mouse isn't the only one moving. Right behind is a sharp-clawed cat looking for something to eat … maybe a tasty plump grey mouse? But where has he gone?
When we are introduced to Pangur Bán, my youngest, Dáithí, who is 5 ¾ years old, pointed out that he is bán as he has bán all around him. He loved "reading" the pictures for me! The Night-Time Cat Pangur Ban is on a mission to find the plump grey mouse!
The illustrations in this book help guide the reader and listener along the long, high halls of Trinity College. They weave a fantastic story laced with images of historic figures that have attended this university. The night-time cat, Pangur Bán, searches everywhere, both high and low, all around Trinity College.  On his travels, Pangur Bán asks for help from many of the other nocturnal visitors to Trinity, namely Jonathan Swift, Queen Elizabeth 1st, Oscar Wilde, even Count Dracula. However not one of them seem interested in helping Pangur. And Pangur Bán is so hungry! Will he ever find that plump, grey mouse?
We loved this glorious fun way to explore Trinity College with its "hauntingly" ( Muireann, 12) beautiful illustrations on a "spooktacular" (Tiarnán, 9)  journey through the university dark grounds! We are introduced to many of the historical and literary people who have been very much involved in shaping this country. My son Tiarnán, was fascinated by Queen Elizabeth 1st and Jonathan Swift, as he had read about both of them previously. I had told my children about Pangur Bán and his escapades from the Book of Kells when we were in Trinity a couple of summers ago. They were delighted to see him as the main character in the story.
Written from the perspective of Pangur Bán, the journey through the story is thrilling, funny and very well written, giving life to the characters and buildings in contrast to the night-time scene. It embraces both Trinity College's history, and helped us all imagine what life was like fadó, fadó. Dáithí pipes up at the end of it, "Could he (Pangur Bán) be hungry as he hasn't eaten a long time like the other people?" Reading the illustrations made his understanding and ours a lot more entertaining too! A wonderfully written story, perfect for either day-time or night-time reading with bedside chats or even with your own cat curled up on your lap.
by Julie Anne de Brún, Scoil Mhuire, Maigh Cuilinn, Co. na Gaillimhe
"The Night-time Cat and the Plump Grey Mouse – A Trinity College Tale" by Erika Mc Gann, published by O'Brien Press, is now on sale for €14.99
Disclaimer: This book was provided by the publisher, O'Brien Press, free of charge to Seomra Ranga for the purposes of this review