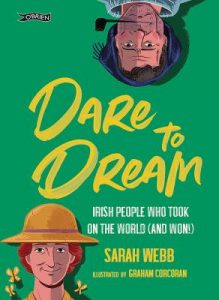 "Dare to Dream" by Sarah Webb is a selection of stories about Irish people who took on the world and won! It is a really entertaining book with lots of information and knowledge. It is different to the kind of books that I normally read but I very much enjoyed this new genre. It is non-fiction told in a story-telling kind of way, which I really loved. The illustrations are amazing and they really bring the book to life.
Some chapters that I particularly enjoyed were Inventors and Discoverers, Dreamers of Tomorrow, Douglas Hyde, Lena Rice, Maude Delap, Lily and Lolly Yeats, Tom Crean, Gretta Cousins, Mary Elmes, and Ronnie Delaney. I found it really interesting to learn the facts and stories about these famous Irish people, some that I had never heard of! Some I had heard of before, but there were things on the page that had never occurred to me before.
Whilst reading this, you were always learning something new because, as I said, if there was someone that you didn't know anything about, you learned about them. On the other hand, if there was someone that you vaguely knew about, there were new facts given to you that you didn't know.
I would recommend this book to people who are interested in history, although I enjoyed it even though I wouldn't have a particular interest in that topic. I think that anyone of the ages 8-9 and over would enjoy it.
If I had to give this book a star rating I would give it 4.5 out of 5 because I really enjoyed it!
I have even recommended to my teacher that my class each pick a person from this book and do a project on them!
By Clíodhna, Rang V, Our Lady of Good Counsel, Johnstown, Dun Laoghaire, Co. Dublin.
"Dare to Dream" by Sarah Webb, published by O'Brien Press, is now on sale for €16.99
Disclaimer: This book was provided by the publisher, O'Brien Press, free of charge to Seomra Ranga for the purposes of this review