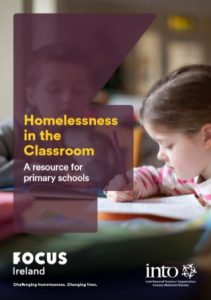 This Thursday, October 10th, marks World Homeless Day. First marked in 2010, the purpose of World Homeless Day is to draw attention to homeless people's needs locally and provide opportunities for the community to get involved in responding to homelessness, while taking advantage of the stage an 'international day' provides.
Focus Ireland and the Irish primary teachers' union the INTO have collaborated to produce "Homelessness in the Classroom – A Resource for Primary Schools". While some may argue that it is a sad indictment on our society that such a document was necessary to publish, at the same time it is an acknowledgement that there are children sitting in Irish classrooms experiencing homelessness.
The document states that its aim is:
to highlight the reality of homelessness and its impact on children's education as well as sharing some good practice already happening in schools.
The idea in the publication is to arm practising classroom teachers with the knowledge and practical suggestions in order to respond to the challenges that homelessness presents in the classroom. The publication includes sections on practical suggestions:
to support children and families in meeting their basic needs
to support parents and families experiencing homelessness
to support pupils who struggle with attendance
to support pupils to achieve academically
to support the mental health of children living in homeless accommodation
to support pupils who are transitioning to a new school
The "Homelessness in the Classroom" publication can be downloaded from the Focus Ireland website HERE