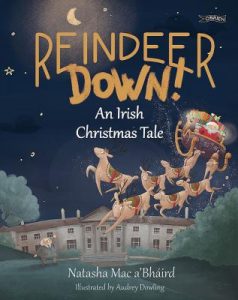 "Reindeer Down!" written by Natasha Mac a'Bháird and illustrated by Audrey Dowling is an enchanting Christmas tale with an Irish twist. Reindeer Down tells the story of Santa and his reindeer as they make their way to Ireland on Christmas Eve. Unfortunately, events do not go to plan and Dancer is unable to continue her journey back to the North Pole. Santa makes a stop in the Phoenix Park to seek assistance.
The story, immersed in Irish landscape and culture, provides learning opportunities and enjoyment for children in junior and middle classes. Alluring and captivating illustrations depicting the Irish countryside create links that can be further examined when exploring Ireland's natural environments.
Santa makes his way above the Atlantic Ocean, passing over the Giant's Causeway, Lough Neagh, the Mourne Mountains and Newgrange before finally touching down in the Phoenix Park.The language is rich and descriptive from beginning to end.
The story will create a sense of heightened excitement as we enter the Christmas season and wait in anticipation for Santa's arrival.
by Maureen O'Donnell, Teacher, Scoil Mhuire gan Smál, Graignamanagh, Co. Kilkenny.
"Reindeer Down" by Natasha Mac a'Bháird, published by O'Brien Press, is now on sale for €14.99
Disclaimer: This book was provided by the publisher, O'Brien Press, free of charge to Seomra Ranga for the purposes of this review