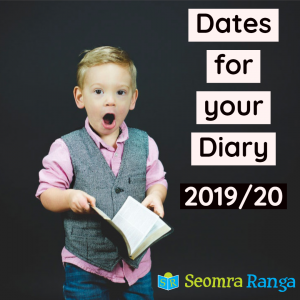 Now in its seventh consecutive year, this hugely popular post is back again. So many teachers make use of this list while they are making plans for seasonal and related activities in the classroom during the school year. Huge thanks again to Ciara Reilly (@PrimEdTeacher on Twitter) for compiling this annual list.
As well as special days, feasts, festivals and celebrations it also includes dates of conferences that will be of educational interest to teachers. Links are provided for further information. Save the dates in your school diary.
All of these dates give teachers great opportunities to celebrate special occasions in school and to see how they can be integrated into the curriculum for educational purposes. So if you are in the midst of planning the year ahead, why not incorporate some of these special occasions into your plans.
If any occasions/dates have been omitted, or if there are any mistakes, please email me to let me know and I'll update the list.
All-Ireland Football Final, Sunday 1st September – http://www.gaa.ie/
Read A Book Day, Friday 6th September
All-Ireland Camogie Finals, Sunday 8th September – http://www.camogie.ie/
Roald Dahl Day, Friday 13th September – http://www.roalddahlday.info/
All Ireland Ladies' Football Final, Sunday 15th September – https://ladiesgaelic.ie/
International Dot Day, September 15th-ish – http://www.thedotclub.org/dotday/
National Ploughing Championships, Tuesday 17th – Thursday 19th September – http://www.npa.ie/
International 'Talk Like A Pirate' Day, Thursday19th September – https://www.ducksters.com/holidays/talk_like_a_pirate_day.php
Culture Night, Friday 20th September – http://www.culturenight.ie/
Rugby World Cup 2019 begins, Friday 20th September – https://www.rugbyworldcup.com/ (Ireland's first game Vs Scotland – Sunday 22nd September)
International Day of Peace, Saturday 21st September – http://www.internationaldayofpeace.org/
Children's Book Ireland Conference 2019, Saturday 21st & Sunday 22nd September – http://childrensbooksireland.ie/
Autumn Equinox, Monday 23rd September – http://www.timeanddate.com/calendar/seasons.html
Blue Star Programme, registration closes Monday 23rd September – http://www.bluestarprogramme.ie/
European Day of Languages, Thursday 26th September – http://edl.ecml.at
European School Sports Day, Friday 27th September – http://www.irishprimarype.com/
FÉILTE 2019, NUI Galway, Friday 27th and Saturday 28th September – http://teachingcouncil.ie/
National Tree Day, date TBC but likely to be Thursday 3rd October – http://www.treeday.ie/
World Space Week, Friday 4th – Thursday 10th October – http://www.worldspaceweek.org/ ; http://spaceweek.ie/
World Animal Day, Friday 4th October – http://www.worldanimalday.org.uk/
World Teachers' Day, Saturday 5th October – http://www.worldteachersday.org/
EU Code Week, Saturday 5th – Sunday 20th October – http://codeweek.eu/
World Homeless Day, Thursday 10th October – http://www.worldhomelessday.org/ (also Focus Ireland Resources)
Maths Week, Saturday 12th – Sunday 20th October – http://www.mathsweek.ie/
Global Handwashing Day, Monday 15th October – https://globalhandwashing.org/global-handwashing-day-2018-clean-hands-a-recipe-for-health/
World Food Day, Wednesday 16th October – http://www.worldfoodday.ie/
World Day for Overcoming Extreme Poverty, Thursday 17th October – http://www.17october.ie/
Clocks go back an hour (2am to 1am), Sunday 27th October
Hallowe'en, Thursday 31st October
Brexit, due to take place Thursday 31st October
Rugby World Cup 2019 Final, Saturday 2nd November – https://www.rugbyworldcup.com/
Outdoor Classroom Day, Autumn edition, Thursday 7th November – https://outdoorclassroomday.com/
Literacy Association of Ireland Annual Conference – Dublin City University, Friday 8th and Saturday 9th November – https://www.literacyireland.com/
International Tongue Twister Day, Sunday 10th November – Try These Tongue Twisters
Science Week, Sunday 10th – Sunday 17th November – http://www.scienceweek.ie/
Origami Day, Monday 11th November – http://www.origami-instructions.com/
Goal 'Write the Future' writing competition, dates TBC but closing date is usually the second week of November – https://www.goalglobal.org/write-the-future
FÍS Film Festival, TBC but likely to be the week of Monday 11th November (entries have already closed for 2019) – http://fisfilmproject.ie/
World Fisheries Day, Thursday 21st November – http://www.gdrc.org/doyourbit/21_11-fisheries-day.html
Thanksgiving (USA), Thursday 28th November
Green Flag Award, application deadline (for those applying for their first flag), Friday 29th November – https://greenschoolsireland.org/green-schools-2019-2020/
Library Week Ireland, dates TBC but usually last week of November– http://www.libraryirelandweek.ie/
Advent begins – Sunday December 1st
Birthday of Walt Disney, Wednesday 5th December
Winter Solstice, Sunday 22nd December – http://www.timeanddate.com/calendar/seasons.html
Christmas Day, Wednesday 25th December – Christmas resources available from http://nollaigshona.ie/
New Year's Eve, Tuesday 31st December
New Year's Day, Wednesday 1st January
World Braille Day, Saturday 4th January – https://www.daysoftheyear.com/days/world-braille-day/
Nollaig na mBan (Little Christmas), Monday January 6th – Nollaig na mBan PPT
World Day of the Snowman, Saturday 18th January – http://worlddayofsnowman.com/
Martin Luther King Jr Day, Monday 20th January
Chinese New Year (Year of the Rat), Saturday 25th January – https://www.dublinchinesenewyear.com/
International Share a Compliment Day, Friday 24th January – https://www.timeanddate.com/holidays/fun/compliment-day
Australia Day, Sunday 26th January
Catholic Schools Week, Sunday 26th January – Sunday 2nd February – http://www.catholicbishops.ie/catholicschoolsweek/
Backwards Day, Friday 31st January – https://www.daysoftheyear.com/days/backward-day/
Lá 'Le Bríde, Saturday February 1st – St. Brigid's Cloak PPT
Storytelling Week (UK), Saturday 1st to – Saturday 8th February – http://www.sfs.org.uk/national-storytelling-week
Ireland's first game in the 2020 Six Nations (against Scotland in the Aviva Stadium), Saturday 1st February – https://www.sixnationsrugby.com/
Safer Internet Day, Tuesday 11th February – http://www.saferinternetday.ie
Valentine's Day, Friday 14th February – Valentines Resources
Pancake/Shrove Tuesday, Tuesday 25th February
Ash Wednesday, Wednesday 26th February
Rare Disease Day, Saturday 29th February – http://www.rarediseaseday.org/
Engineer's Week, Saturday 29th February to Friday 6th March – http://www.engineersweek.ie/; http://www.steps.ie/
Texaco Art Competition: 2020 dates TBC, but deadline for entries is usually end of February – http://www.texacochildrensart.com/
Green Schools Exhibition, RDS Dublin (2020 date TBC but usually on a Thursday in late February) – https://greenschoolsireland.org/
World Compliment Day, Sunday 1st March – https://www.timeanddate.com/holidays/fun/world-compliment-day
Seachtain na Gaeilge, Domhnach 1ú – Máirt 17ú Márta – http://snag.ie/
Computers in Education Society of Ireland (CESI) Annual Conference, dates TBC but usually held end of February/Beginning of March – http://www.cesi.ie/
World Book Day, Thursday 5th March – https://www.worldbookday.com/
RDS/ESB "Science Blast" Primary Science Fair RDS Dublin, Tuesday 3rd to Thursday 5th March – https://rds.ie/Members/Our-Work/esb-science-blast
International Women's Day, Sunday 8th March – http://www.internationalwomensday.com/
St Patrick's Day, Tuesday 17th March – St. Patrick's Day Resources
Spring Equinox, Friday 20th March – http://www.timeanddate.com/calendar/seasons.html
World Poetry Day, Saturday 21st March – http://www.un.org/en/events/poetryday/
Mothers' Day, Sunday 22nd March
World Water Day, Sunday 22nd March – http://www.unwater.org/
World Meteorological Day, Monday 23rd March – https://public.wmo.int/en/resources/world-meteorological-day ; https://www.met.ie/
Green Flag Award, application deadline (for those applying for their second and subsequent flag), Friday 27th March – https://greenschoolsireland.org/green-schools-2019-2020/
Clocks go forward (1am to 2am), early hours of Sunday 29th March
National Tree Week, exact dates TBC but usually late March – http://www.treecouncil.ie
UEFA Euro 2020 qualification playoffs (likely to include Rep. of Ireland) for UEFA Euro 2020 (part of which takes place in Dublin) – between Thursday 26th and Tuesday 31st March – http://www.fai.ie/
Tech Week Ireland, dates TBC but usually late March/early April– http://www.techweek.ie/
Green Schools Water Poster Competition 2020, dates TBC but deadline for entries is usually late March – https://greenschoolsireland.org/
April Fool's Day, Wednesday 1st April
World Autism Awareness Day, Thursday 2nd April – https://autismireland.ie/ ; https://autism.ie/ ; https://asiam.ie/
Holy Week, Sunday 5th (Palm Sunday) – Saturday 11th March (Holy Saturday)
Easter Sunday, Sunday 12th April
Earth Day, Wednesday 22nd April – http://www.earthday.org/
Shakespeare Day, Thursday April 23rd – https://www.timeanddate.com/holidays/uk/shakespeare-day
ICT in Education Conference, Thurles, Friday 24th and Saturday 25th April – http://ictedu.ie/
International Jazz Day, Thursday 30th April – http://jazzday.com/
RDS/ESB "Science Blast" Primary Science Fair, Belfast, Wednesday 3rd to Thursday 4th June – https://rds.ie/Members/Our-Work/esb-science-blast
World Environment Day, Friday 5th June – http://worldenvironmentday.global/
Butterfly Education and Awareness Day, Saturday 6th June – http://afbeducation.org/butterfly-conservation/butterfly-education-and-awareness-day/
World Oceans Day, Monday 8th June – http://worldoceansday.org/
UEFA Euro 2020 begins, Friday 12th June (Dublin is one of 12 host cities; first game at Aviva Stadium is Monday 15th June) https://www.uefa.com/uefaeuro-2020/
Bike Week, dates TBC but usually mid-late June – http://www.bikeweek.ie/
Summer Solstice, Saturday 20th June – http://www.timeanddate.com/calendar/seasons.html
Fathers' Day, Sunday 21st June
International Music Day, Sunday 21st June – https://www.awarenessdays.com/awareness-days-calendar/world-music-day-2020/
FÍS Film Festival – dates TBC but deadline for submission is usually the end of June – http://www.fisfilmproject.ie/
For additional fun days or events, I recommend:
(Months of the Year visuals are available as a download HERE)
Ciara Reilly is an Assistant Lecturer in Education in ICT and Digital Education in Marino Institute of Education. You can follow her on Twitter @PrimEdTeacher