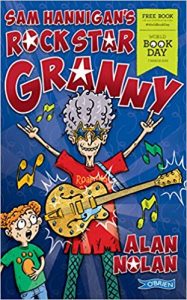 Sam Hannigan's Rock Star Granny is written and illustrated by Alan Nolan and published by O' Brien Press. Nanny Gigg enters a competition on the radio for a night in a posh bed and breakfast and tickets to go and see her favourite band, the Roaming Scones.
They win but the really cool thing is they get to see the Roaming Scones' solid gold guitar. However, someone tries to steal it. Can Nanny Gigg and her grand daughter stop them?
My favourite character is Samantha. She has an animal rescue centre with a huge variety of animals. I really liked the book because it was funny. I though it was an exciting story and easy to read. My favourite part was when Nanny Gigg met the Roaming Scones.
I would give it an 81/2 out of ten.
Róise, Rang IV, Ballyvongane National School, Coachford, Cork.
"Sam Hannigan's Rock Star Granny" by Alan Nolan, is published by O'Brien Press for World Book Day 2019.
Disclaimer: This book was provided by the publisher, O'Brien Press, free of charge to Seomra Ranga for the purposes of this review