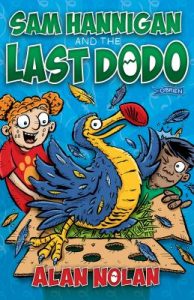 Summary: Sam Hannigan is a witty, clever, humorous and talented girl. She and her brother Bruno live with their eccentric, potty Nanny Gigg. They live in Clobberstown, Co. Dublin. They love animals and even have a shelter at the bottom of their garden.
While Bruno is away in Irish college, a ferocious storm is brewing in Dublin. Ajay, Sam's friend, decides to stay over during the storm to help with the petrified animals. The following morning, they discover a suspicious box on their doorstep. When they open it, to their amazement, they see a beautiful Dodo.
This is the beginning of an exciting tale which includes animal poachers set on capturing the dodo. Along this wild dodo chase, there are many events that will make you giggle out loud.
Opinion
I love this book. It is a true page turner. At times it made me burst into laughter. It also made me hope that the dodo would be safe. It is an exhilarating read. The author incorporates many comical sketches and drawings throughout the book. I look forward to seeing his next adventure on the bookshelves.
Recommendations
I would recommend this book for all members of the family as the older children could read it to their younger siblings or friends. They could have many giggles together.
Rating
9/10. I have given this rating because I found it to be a wonderful book. I feel it would appeal to a wider age group if the illustrations were colourful.
By Alex (10), 4th Class, Killaloe BNS, Co. Clare.
"Sam Hannigan and the Last Dodo" by Alan Nolan, published by O'Brien Press, is now available to purchase for €8.99
Disclaimer: This book was provided by the publisher, O'Brien Press, free of charge to Seomra Ranga for the purposes of this review