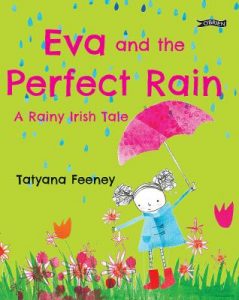 "Eva and the Perfect Rain" is a picture book by Tatyana Feeney.
About: Eva has a new umbrella and is looking for the perfect rain shower to try it out.
What Happens? It is raining again and Eva goes outside to use her new umbrella. She is hoping for the perfect rain for umbrellas. The rain changes lots of times from soft rain to pouring rain to sideways rain. Her umbrella blows away in strong wind but she finds it again. She finally gets the perfect rain which makes a rainbow with the sun.
What did I like? I liked the weather map at the front of the book. I liked when she was looking up into the clouds and the rain was falling on her face. The pictures are lovely in the book and it was funny when the umbrella got stuck in the tree.
Age: I think the book would suit children aged 3-6.
Favourite bit? When she was jumping in the puddle and getting blown by the strong wind.
Rating: 9/10
By Ben (Age 5), Queen of the Universe NS, Bagenalstown, Co. Carlow.
"Eva and the Perfect Rain" by Tatyana Feeney, published by O'Brien Press, is now available to purchase for €12.99
Disclaimer: This book was provided by the publisher, O'Brien Press, free of charge to Seomra Ranga for the purposes of this review