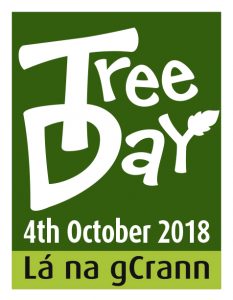 The Tree Council of Ireland, supported by Tetra Pak, is calling on primary school children across the country to get involved in Tetra Pak Tree Day on Thursday 4th October 2018. The theme for this year's campaign is "Be nature nice!" or "Bí dóighiúil don dúlra!"
Tetra Pak Tree Day gives children, teachers and parents the opportunity to put down the school books, get outdoors and connect directly with nature. The campaign also encourages children to become more environmentally aware. The campaign's mascot Sammy Squirrel will feature on Avonmore school milk cartons with seven simple messages on how to help the environment.
Each year Tetra Pak Tree Day places a focus on a different native tree. This year the spotlight is on the Guelder-rose, or Caor chon in Irish. The Guelder-rose is a small deciduous tree, sometimes reaching a height of 4 metres, that grows in dampish areas in hedges and small woods. It bears discs of creamy white flowers in early summer, making it excellent for pollinators, and produces bunches of translucent bright red berries in early autumn, which are loved by birds. The Guelder-rose is an important native tree that supports Ireland's natural habitats and preserves biodiversity.
As part of Tetra Pak Tree Day, up to 1,000 of these native tree saplings will be made available through the Tree Day website for primary school children to plant on their school grounds. There is also an opportunity for children and teachers to win an iPad for their class. More details about the campaign including guided woodland walks, class lessons, videos, fun tree facts, activities and more can be found on www.treeday.ie