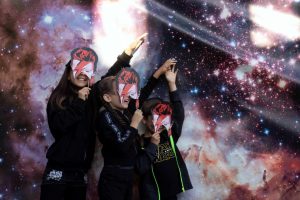 Space Week, running from October 4th – 10th this year, is a week that encourages people to engage with Science, Technology, Education and Maths (STEM) through the inspirational topic of space. Space Week is run by CIT Blackrock Castle Observatory in partnership with Science Foundation Ireland and ESERO Ireland.
Space Week was officially launched on Monday September 3rd by John Halligan, Minister of State for Training, Skills, Innovation, Research and Development. Speaking at the launch event, Minister Halligan said:
"This week-long event will provide an ideal opportunity for Irish people to learn more about the significant impact space has on our daily lives, including our ability to communicate, travel and address climate change. Importantly, Space Week offers children and adults alike the chance to discover career aspirations and to develop a new interest in space, a sector that is playing an increasingly important role in our economy and international competitiveness.''
Stephanie O' Neil, Manager ESERO Ireland at Science Foundation Ireland, stated:
"Space Week is a perfect embodiment of ESERO Ireland's mission. It exposes young people to the Space field, and STEM more generally, so that they can make informed choices about their futures, and potentially pursue a career in STEM. Space Week is also a wonderful opportunity for the general public to engage with science and to become more science literate, while developing a greater understanding of the importance of space research for their own lives."
Space Week runs every year from October 4th to 10th and encourages schools, industry, and families to organise, or participate in, Space themed activities. In 2017, 14,000 people from around the country participated in activities, and this year already looks set to surpass that success.
To get involved in Space Week, just check www.spaceweek.ie to find events in your area, or for tips on how to register and host your own event.
Image © courtesy Blackrock Castle Observatory