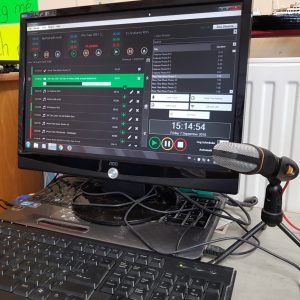 School Radio. How did we get the idea is something that I am often asked. Since 2009, I had been doing short podcasts with book and movie reviews with my classes. Sometimes, we would speculate where a book was going and record a podcast, then read the rest of the book, and compare what we thought would happen to the actual ending. We recorded concerts, speeches for "class president".  All beneficial in so many ways.
Then, in early 2016, my then 5th Class wanted to do a radio show podcast, to talk about their favourite songs, and why they chose certain songs. They asked me what I thought and I thought it was a great idea, but to be the most effective, I felt you had to play the song too. So I asked the class what problems that might pose. They were straight in with the correct answer: copyright. You couldn't just play what you wanted without permission.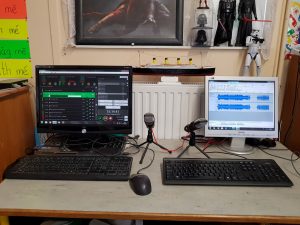 So we looked into it and saw that licences from IMRO (Irish Music Rights Organisation) and PPI (Phonographic Performance Ireland) would be needed. Once we discovered this, the class threw another question – if we're going to get a licence for a couple of podcasts, why not just set up a class radio station?
I loved that idea – I have worked previously for WLR, TippFM and KCLR, so I was no stranger to radio, and the more we talked about it and planned what the schedule might be, the more I loved the idea of a class (or school) radio station.
The learning opportunities it presented, the chance to have the shy pupil speaking confidently, to develop interview skills, to learn how to edit audio, to be able to schedule podcasts and radio shows at certain times of day. We wouldn't be able to broadcast live, as the cost of equipment etc for that was prohibitive, meaning we decided that all shows would be pre-recorded using digital recorders that were portable. So we put the wheels in motion.
We found some superb radio playout software called PlayIt Live, which we still use to this day. We signed up with Caster.fm for a free account to stream our station through the school website (We now also have a stream on the TuneIn radio app). We applied to IMRO and PPI and paid for the licences to broadcast online.
The BAI (Broadcasting Authority of Ireland) would not offer any financial help to get it started as it was not an FM service, but a generous donation from Lorcan Kennedy at Waterford Technologies helped us along the way to paying for the licences.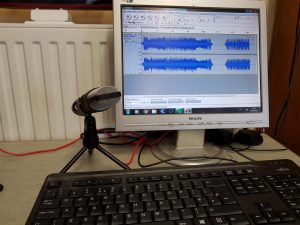 We looked for a professional voice over artist to record sweepers for us, and on fiverr.com we found the perfect voice. The choice of station name was a little unoriginal – the boys felt that as it was coming from our class it should be "Mr. Russell's Class", a name that we're a little stuck with now! We even managed to raise some extra money towards sung jingles – jingles are those short pieces of music that sing your station ID. We were delighted to get some of those, as they really make it sound like a "real" radio station!
We also visited the regional radio station Beat 102-103, and met with on-air presenters there, seeing the studios and asking questions about how to plan out and present a radio show. We were very grateful to the staff and to Beat CEO Gabrielle Cummins who helped us to arrange the visit. With everything tech-wise in place, along with station imaging, we recorded the first shows on a portable digital voice recorder. These were then edited in Audacity, a free audio editor and mixer.
And in May 2016, we went on air for the first time with a 2 hour broadcast. The first 8 weeks were very good, well put together, and sounded great for a class/school radio station. That class moved on – but with another 5th Class incoming, came new ideas. "What about news bulletins?" they asked. And so, our little station expanded to include news bulletins, first with stories from our class, then to senior infants, then 2nd Class, before including interviews with staff and visitors to the school.
By the end of 2016/2017, most classes in our school were involved in contributing to the news on the radio, and the younger boys loved the opportunity to talk about what they were doing in their classes, as well as being proud as punch going home to tell everyone that they would be on the radio! 4th Classes recorded Q&A's about their projects too, which allowed them to share what they had learned while making them.
Of course, it being a radio station, the most popular show to do is "MyPod" – a fantastic name idea from 5th Class 2015/2016. The boys were trying to think of a name for a radio show where you get to play all your favourite songs, like on an iPod, when one of them said, "what about MyPod?" And the name stuck!
It's quite something when you have pupils come in to school with a list of 30-40 songs, and ask when they can record their radio show. Especially so, when it's from pupils who would usually be quiet and shy, but are excited to do a radio show that they can record without 29 other faces looking at them. And that is where the success of this whole idea comes from.
2017/2018 saw more ideas introduced, such as hits and headlines from yesteryear, specific decades of music, playing out podcasts of school concerts and speeches from visitors, playing the audio from Skype calls with scientists/marine biologists (with their permission!), and recording radio shows on the go, from outside the classroom and school grounds, such as on a History Trail, or on a class trip.
One notable highlight was when our school was awarded Digital School of Distinction status, and the boys interviewed Mr. Robbie O'Leary who came from Dublin to officially award the DSoD status, and the Waterford Mayor Mr. Pat Nugent, about the job of Mayor, his dreams when he was younger, and what advice he would share with kids growing up now who might want to be Mayor.
As we head into 2018/2019, we're now introducing "Word of the Day", there are going to be puzzles and short stories aired in the coming months, and new ideas are in the pipeline. It's been a lot of hard work and there has been some personal expense to get it up and running, but it has also been a big success. Sacred Heart Primary School in Co. Longford are regular listeners and drop us a tweet when they are doing Art, and listening in to our station. Other schools in the UK, France and the USA have all listened and let us know they have us on.
If you have the time and interest and can secure some financial help, I'd highly recommend looking at getting a school radio station going. The sense of inclusion it offers is immense, as not all contributors need to be presenting radio shows. It builds confidence in speaking and listening skills, it enhances literacy (news bulletins must be pre-scripted, as must questions for interviews, and it never hurts to script out your link so you know what you are going to say between songs).
The school radio also gives your pupils a voice, maybe through discussing important issues in the news, or by sharing the music they love. And I have found that it really encourages teamwork. We share out the "Programmes Manager" role every week, so that everyone can have a turn at scheduling the radio station. Presenters can choose from a variety of shows to do, and the news team look after the news bulletins and interviews.
Our station broadcasts through our school's website at: ststephensbns.com/radio or we can also be found on the TuneIn radio App by searching for "Mr. Russell's Class". At some stage in 2018/2019, we're hoping to do an "almost live" radio show – by taking in requests for songs, which we will record links for immediately and then drop them into the PlayIt Live software. Watch this space!
Trystan Russell teaches 5th Class in St. Stephen's De La Salle in Waterford. You can follow his class on Twitter @MrRussellsClass