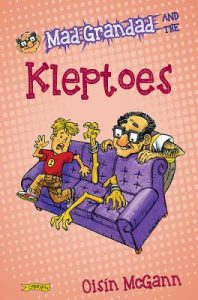 This is a story about things going missing at Lenny's grandad's house. There are good descriptions of the creatures that Lenny and his grandad meet on their quest to find out what is going on.
While some parts of the story are slightly creepy, otherwise it is funny and entertaining.
I liked this book and found it easy to read. I would recommend this book for 5 to 7 year olds and I give it a score of 8 out of 10.
By Ruadhán, 3rd Class, Gorey Educate Together NS, Co. Wexford.
"Mad Grandad and the Kleptoes" by Oisín Mc Gann, published by O'Brien Press, is now available to purchase for €6.99
Disclaimer: This book was provided by the publisher, O'Brien Press, free of charge to Seomra Ranga for the purposes of this review