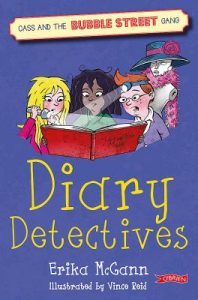 "Diary Detectives" by Erika McGann is about a girl called Cass and her two best friends called Lex and Nicholas. Cass has a mortal enemy, Ms Lee. Ms Lee wants all the children to stop annoying the residents.
She makes up rules that mean children aren't allowed to play games on the street. They can't shout, scream or even laugh loudly. They also can't draw with chalk or run on the paths which means they can't play any of their favourite games.
One day there was a jumble sale. Cass had her own stall with books from home. Nobody was coming to her stall so she looked through her books. She found somebody's diary and read some of it. It was evil and full of meanness. Cass has to serve one of her customers but when she turns around the diary has disappeared! Who could have taken it?
Cass and her friends have a mystery to solve! I think that this book has a good mystery and is very funny. I would recommend this book for 7-10 year olds. I can't wait to read the rest of the Cass and the Bubble Street Gang series.
By Emma, Third Class,  Behy National School, Co Mayo.
"Diary Detectives" by Erika Mc Gann, published by O'Brien Press, is now available to purchase for €7.99
Disclaimer: This book was provided by the publisher, O'Brien Press, free of charge to Seomra Ranga for the purposes of this review