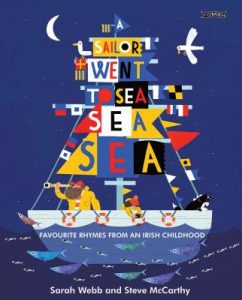 The children in my class thought that this book, "A Sailor Went to Sea Sea Sea" by Sarah Webb and Steve Mc Carthy,  was a fabulous book. They really enjoyed the poems and they had great fun reading the poems by themselves and aloud.
The collection of poems is extensive and is a lovely way to introduce the children to Irish poets like James Joyce and W.B. Yeats. They loved the illustrations and made reference when discussing the poems.
Some favourites were: "She'll be Coming Round the Mountain", "Jelly on the Plate", "Pardon Me" and "An Irish Farewell". As two of my pupils agreed, it is a book for ages between 8-18 and older. It scored top marks in my classroom.
by Jack Ryan, 3rd/4th Class, Oxmanstown N.S., Co. Offaly
"A Sailor Went to Sea Sea Sea" by Sarah Webb and Steve Mc Carthy, published by O'Brien Press, are now available to purchase for €16.99
Disclaimer: This book was provided by the publisher, O'Brien Press, free of charge to Seomra Ranga for the purposes of this review