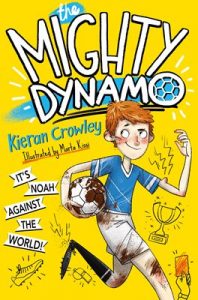 I found this book really enjoyable, funny and witty. I am not usually a big fan of football books, but this book might have changed that!
It has a really great storyline and plot with lots of twists and turns. All the characters are very realistic. I liked that it is an Irish book and I can relate to the weather problems and imagine Carraig Cruach perfectly, the typical Irish town!
Noah was a great main character, a nice person, who had flaws like everyone else. My two favourite characters were Maggie and Stevie. Maggie because she was so cocky, independent and confident and Stevie because he was so enthusiastic but happy to take a back seat. He is also very thoughtful and understanding.
I look forward to reading the next adventure of Noah Murphy and the Mighty Dynamos.
By Tara, 6th Class, Naul National School, Naul, Co. Dublin
"The Mighty Dynamo" by Kieran Crowley is published by PanMacmillan and is now available to purchase in bookstores and on Amazon.
Disclaimer: This book was provided by the author free of charge to Seomra Ranga for the purposes of this review